Very Cool Keyboard
The Very Cool is a stylish full-sized but compact keyboard offering the most flexibility within a washable design. Designed to fit into any workstation, wall-mount or nurse's station, the keyboard is comfortable to type on, has adjustable feet, and is made of durable high-grade plastic. The keys are laser etched with extra large characters for use in most lighting conditions and to prevent eye strain.
Installation is super flexible and cleaning is super easy thanks to a quick disconnect cable to simplify cable management. The ability to quickly remove a keyboard from a workstation, without the hassle of undoing cables, saves an enormous amount of time and money. Adjustable feet allow for the Very Cool to sit flat or at an angle.
Featuring Man & Machine's proprietary Tru-Lock technology, you can lock the keyboard for cleaning at the workstation without sending false commands to the PC. Locking and cleaning high-touch surfaces, like a keyboard, can help reduce the transmission of colds, infections, and other illness causing germs and bacteria.
Clean and disinfect using standard hard-surface cleaners. The Very Cool keyboard is fully washable. Whether you sink rinse, or spray the keyboard with a cleaning solution, the internal components are protected, unlike a standard keyboard. Fluids will easily flow through the drainage holes on the base of the keyboard. Liquids won't have a place to gather and create into a mold growing swamp condition.
Tru-Lock Makes Washing Easy
Press the Fn key & F11 key simultaneously to lock the keyboard.  The three LED's blink when the keyboard is in lock mode.  Clean keyboard using approved disinfectant or soap and water.  After cleaning is done, press Fn key and F11 key simultaneously again to unlock the keyboard.

Customize with MagFix
MagFix provides internal built-in magnets which help keep the keyboard in place on magnetic surfaces such as wall mount units with flip up trays.  If your flat cart tray bounces through hallways, MagFix will keep your keyboard in place.  Attach your Very Cool keyboard with no need for dirty tape or Velcro.  If your surface is plastic, or any material a magnet will not adhere to, we can supply you with special plates to attach to your tray allowing the keyboard to hold fast.
The Very Cool with MagFix is made in the USA.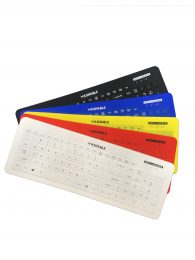 Add A Printed Fitted Drape
Pair the Very Cool keyboard with an optional printed fitted drape. The raised key design helps you find your proper typing position while supporting tactile feedback. The Very Cool Fitted Drape provides a one-wipe cleaning solution for your hygiene protocols. Replaceable cover can be cleaned, disinfected and even sterilized using standard hospital grade cleaners or an Autoclave.
Very Cool Fitted Drape available in colors: White, Black, Blue, Red, and Yellow
SKU:

VC/W5
Categories: Waterproof Keyboard Product Line, Budget Keyboards And Mice for Dental Offices, Courtroom Keyboards And Mice, Washable Keyboards And Mice, Laboratory Keyboards and Mice, Office & Government Keyboards, Open Style Keyboards For Restaurants, Police Product - Recption & Office, Standard Keyboards For Educational Environments, Traditional Washable Keyboards, Value Laboratory Keyboards, Value Products For Medical Environments, Waterproof Keyboards For Factories, Waterproof Open Style Keyboards For Boating, Police Keyboards And Mice, Keyboard Covers & More
Tags: dental, disinfect, hand hygiene, healthcare, hygienic, infection control, infection prevention, keyboard, sterilize, Very Cool Keyboard, washable keyboard, waterproof keyboard, Waterproof open style keyboard
Very Cool Keyboard
MSRP
Qty
Protection Rating: IP 65
Color: White
Size: 416.8 x150.0 x 22.3 mm (418.8 x152.0 x 23.3 mm with drape)
Weight: 1.1 lb (500 g) ((1.4 lb (575g with drape))
Storage temperature: 23 to 131 F (-5 to 55 C)
Operating temperature: 32 to 122 F (0 – 50 C)
Power consumption: 5V/50 mA
Platform: Win, MAC, Linux
Connection: USB
Number of keys: 104
Switch rating: 11 million
US English
Additional languages available
VC/W5 White
VC/MAG/W5 White
One Year Warranty
Warranty Details:
Man & Machine, Inc. ("Manufacturer") warrants to the original purchaser (the "Customer") that the products it manufactures ("Product") shall be free from defects in material and workmanship at time of shipment. Manufacturer's obligations under this Warranty shall be limited to repairing or replacing with the same or comparable item, at its option, free of charge, any product returned to Manufacturer freight prepaid. Manufacturer shall have no obligation under this Warranty or otherwise if (1) the Product has been damaged by abuse, negligence, accident, mishandling, lightning or flood, or other Acts of God, (2) the Product has been affected by normal wear and tear, (3) the Product has not been operated in accordance with its operating instructions, (4) the Product has been altered or repaired by anyone outside Manufacturer (5) adaptations or accessories have been made or attached to the Product which, in Manufacturer's sole determination, have adversely affected its performance, safety or reliability.
If a Product should malfunction or fail during the warranty period stated above, contact the original place of purchase for return options. If purchased directly from Man & Machine, Inc., please submit a Return Material Authorization (RMA). This form can be located on our website at http://www.man-machine.com/forms/replacement-form.php. Please reference your original order number, original order information and complete description of the problem on the form. Returned Products must include the RMA number clearly marked on outside of the package. Manufacturer will not be responsible for any unnecessary items included with any returned Product.
THIS WARRANTY IS THE EXCLUSIVE WARRANTY FOR ANY PRODUCT. MANUFACTURER SPECIFICALLY DISCLAIMS ANY AND ALL OTHER WARRANTIES OF ANY KIND, EXPRESS OR IMPLIED, INCLUDING ANY WARRANTIES OF FITNESS FOR A PARTICULAR PURPOSE OR OF MERCHANTABILITY. MANUFACTURER SHALL NOT BE LIABLE IN TORT, INCLUDING NEGLIGENCE OR STRICT LIABILITY, AND SHALL HAVE NO LIABILITY AT ALL FOR INJURY TO PERSONS OR PROPERTY. MANUFACTURER'S LIABILITY FOR FAILURE TO FULFILL ITS OBLIGATION UNDER THIS LIMITED WARRANTY OR ANY OTHER LIABILITY IN CONNECTION WITH A PRODUCT SHALL BE LIMITED TO THE AMOUNT OF THE PURCHASE PRICE RECEIVED BY MANUFACTURER FOR THE PRODUCT. THE REMEDIES STATED IN THIS LIMITED WARRANTY ARE THE CUSTOMER'S EXCLUSIVE REMEDIES AGAINST MANUFACTURER REGARDING ANY PRODUCT. UNDER NO CIRCUMSTANCES SHALL MANUFACTURER BE LIABLE FOR ANY INDIRECT, INCIDENTAL, SPECIAL OR CONSEQUENTIAL DAMAGES, INCLUDING LOST PROFITS AND REVENUES, INCONVENIENCE OR INTERRUPTIONS IN OPERATIONS, OR ANY OTHER COMMERCIAL OR ECONOMIC LOSSES OF ANY KIND. THESE LIMITATIONS AND DISCLAIMERS ARE NOT MADE BY MANUFACTURER WHERE PROHIBITED BY LAW. SOME STATES PROHIBIT LIMITATIONS OF WARRANTIES AND THE CUSTOMER MAY HAVE ADDITIONAL RIGHTS IN THOSE STATES.
All items returned for warranty repair/replacement must be sent freight prepaid and insured to either the original place of purchase or to the Manufacturer:
Man & Machine, Inc.
3706 West Street
Landover, MD 20785
All warranty repairs or replacements will be returned freight prepaid by ground service to any destination within the Continental United States of America. Charges for repairs/replacements shipped back outside this region are the responsibility of the end user.