Our Medical Grade™ Keyboard Features
Mouseover for more information
Really Cool Keyboard
Sealed Waterproof Keyboard
Our best-selling keyboard, the Really Cool is a sealed and seamless device with no cracks or crevices making it easy to clean and disinfect at the workstation. With excellent tactile feedback, it is no wonder that the Really Cool is the #1 choice among uncompromising medical professionals in hospitals, doctor's offices, laboratories and other environments where infection control is imperative. With our special Tru-Lock feature, you can lock the keyboard without disconnecting it from the computer. From simple coffee and bagel spills to the most contagious bio-burden, the Really Cool keyboard is ready for almost anything you can dish out.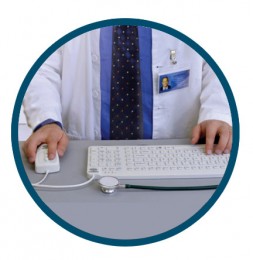 Medical Grade™ for Superior Infection Control
The Really Cool line of keyboards meet the gold standard of infection control devices, including being lockable and hygienic white for easy splatter detection. Traditional open-style keyboards can harbor harmful pathogens under their keys and in their crevices, as well as other issues such as mold or mildew. Why risk your patient's and staff's health. Choose a Medical Grade Keyboard ideal for infection control.
How Cool? Really Cool
The Really Cool is designed with reliability in mind. With no complicated moving parts under the keycaps, they can work in the most extreme conditions. From muddy fields to messy food processing factories, dessert sands to the frozen tundra the Really Cool Keyboard is up to the challenge.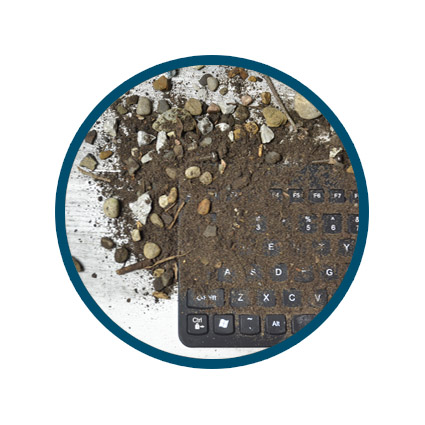 Cleaning & Disinfecting is a Breeze
Most keyboards cannot be properly cleaned or disinfected. The Really Cool is engineered with cleaning in mind. From sink washing to terminal cleaning, with a 1:10 bleach solution (the CDC standard for handling blood spills) the tough silicone skin can take it. When ready to clean, our special Tru-Lock feature allows the user to quickly lock the keyboard right at the workstation. Once the indicator lights are flashing, wipe it down with your favorite brand of disinfectant. Every surface is easy to reach and your wipe glides evenly over the low profile keys. When finished, simply unlock the keys and resume typing. With our unique locking system, there's no need to disconnect the USB cable and no worries about accidental gibberish or unwanted commands disrupting your vital work.

Excellent Tactile Feedback, Quiet Typing
When you press a Really Cool key, you feel a distinct tap when the key makes contact that lets you know your command has been entered. Unlike a normal keyboard, the Really Cool is Quiet while you type, which can help keep your patients at ease and improve your HCAHPS scores.
Flat is Better
Studies show that flat keyboards are a good way to help prevent repetitive motion issues. The Really Cool keyboard was designed by our in house ergonomic engineer to sit flat on the work surface, reducing hand and wrist stress.
Customize for Your Specific Needs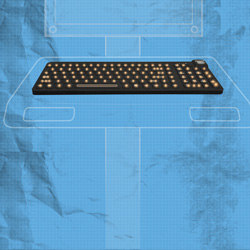 Multilevel Backlight
Upgrade to a backlit keyboard to work in dark places. Our special multilevel backlight has an almost unlimited level of brightness, letting you adjust the brightness to fit your environment. After finding the desired brightness level, the keyboard remembers your setting. Simply turn the light on and off with a single button. Individual LED bulbs behind every key, ensure you are getting a backlight that goes above and beyond.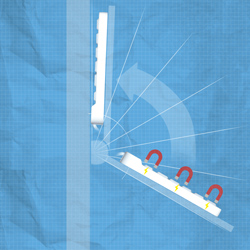 MagFix
MagFix provides internal built-in magnets which help keep the keyboard in place on magnetic metal surfaces such as wall mount units with flip up trays. If your flat cart tray bounces through hallways, magfix will keep your keyboard in place. Attach your washable keyboard with no need for dirty tape or Velcro™. If your surface is plastic, or any material a magnet will not adhere to, we can supply you with special plates to attach to your tray allowing the keyboard to hold fast.
Custom Cable Length
Custom cable lengths allow you to choose 10-feet, 6-feet or 12-inch lengths, for added convenience through cable management, which can save time and money. Whether your keyboard is used on a workstation-on-wheels, where you may want short cables outside the locked unit, or in an application where you need a far reaching keyboard up to 10 feet away, we'll custom build your device with a cable length to fit your needs.
Other highlights include:
• Full-size keys include number pad and F keys.
• Because the letters are laser-etched into the silicone,the letters will never rub off.
• The keyboard is USB plug-and-play ready for hassle-free operation.
• Keyboards may be private labeled with your logo. 
Minimum order quantities apply.
•
Available as a red Downtime Workstation Keyboard.
• Our entire line of Medical Grade keyboards & mice are engineered, built and serviced in the USA, and are 100 percent quality assured, for years of trouble-free service.
SKU:

RCLP
Categories: Waterproof Keyboard Product Line, Tough Keyboards & Mice, Courtroom Keyboards And Mice, Industrial Keyboards And Mice - Waterproof, Laboratory Keyboards and Mice, Office & Government Keyboards, Police Product - Recption & Office, Premium Keyboards and Mice For Dentist Offices, Sealed Boating Keyboards And Mice, Sealed Keyboards For Boating And Marine, Sealed Keyboards Resturants, Silent Keyboards and Mice For Libraries, Premium Medical Grade & Sealed Keyboards & Mice
Tags: backlit keyboard, built-in backlight, disinfect, hand hygiene, healthcare, hygienic, infection control, infection prevention, key lock, laboratory, lockable keys, medical, medical grade keyboard, Premium keyboard, Really Cool Keyboard, Sealed keyboard, trulock, washable keyboard
Really Cool Keyboard
MSRP
Qty
Weight: 1.7 lb (780 g)
Size: 15 x 5.5 x 0.6 in (381 x 140 x 15.3 mm)
Cable Length: 6 ft (1.83 m)
Storage Temperature: -40° to 185°F (-40° to 85°C )
Operating Temperature: 32° to 158°F (0° to 70°C)
Power Consumption: 60mA (non-backlighted)


300mA (backlighted)

Platform: Windows, Mac & Linux
Layout: Includes numeric keypad and 12 Function keys
Protection Rating: IP 68
Keystroke Rating: 2 million
Compliance: CE, FCC
Material: Silicone Rubber, 100% Latex-Free
Interface: USB
Color: Black or Hygienic White
Hygienic White:
US English
UK English
French
German
Swiss/Lux
ScanFour *
Black:
US English
* ScanFour
Norwegian, Danish, Swedish, Finnish
2-year warranty
RCLP/W5 Really Cool LP (Hygienic White)
RCLP/MAG/W5 w/ MagFix (magnetic attachment system)
RCLP/BKL/W5 w/ Backlight (multi-level illumination)
RCLP/MAG/BKL/W5 w/ MagFix & Backlight
RCLP/B5 Really Cool LP (Black)
RCLP/MAG/B5 w/ MagFix (magnetic attachment system)
RCLP/BKL/B5 w/ Backlight (multi-level illumination)
RCLP/MAG/BKL/B5 w/ MagFix & Backlight
Ltd. Lifetime warranty SKU
RCLP/W5-LT Really Cool LP (Hygienic White)
RCLP/MAG/W5-LT w/ MagFix (magnetic attachment system)
RCLP/BKL/W5-LT w/ Backlight (multi-level illumination)
RCLP/MAG/BKL/W5-LT w/ MagFix & Backlight
RCLP/B5-LT Really Cool LP (Black)
RCLP/MAG/B5-LT w/ MagFix (magnetic attachment system)
RCLP/BKL/B5-LT w/ Backlight (multi-level illumination)
RCLP/MAG/BKL/B5-LT w/ MagFix & Backlight
Limited Lifetime Warranty
Available for additional fee at time of purchase for the following products:
Really Cool, Really Cool Touch, Slim Cool, Slim Cool Plus Keyboards, E Cool Downtime Keyboard & Other Workstation Identifier Keyboards
Mighty Mouse, Petite Mouse
Three Year Warranty
Default Warranty For:
So Cool
Two Year Warranty
Default Warranty For:
Really Cool, Really Cool Touch, Slim Cool, Slim Cool Plus Keyboards and Mighty Mouse/Petite Mouse
One Year Warranty
Warranty for:
Really O' Cool Oil Resistant Keyboard, Workstation Identifier Keyboards, Its Cool Keyboard, L Cool Keyboard, D Cool Keyboard, C Mouse, Simply Cool Touch.
Warranty Details:
Man & Machine, Inc. ("Manufacturer") warrants to the original purchaser (the "Customer") that the products it manufactures ("Product") shall be free from defects in material and workmanship at time of shipment. Manufacturer's obligations under this Warranty shall be limited to repairing or replacing with the same or comparable item, at its option, free of charge, any product returned to Manufacturer freight prepaid. Manufacturer shall have no obligation under this Warranty or otherwise if (1) the Product has been damaged by abuse, negligence, accident, mishandling, lightning or flood, or other Acts of God, (2) the Product has been affected by normal wear and tear, (3) the Product has not been operated in accordance with its operating instructions, (4) the Product has been altered or repaired by anyone outside Manufacturer (5) adaptations or accessories have been made or attached to the Product which, in Manufacturer's sole determination, have adversely affected its performance, safety or reliability.
If a Product should malfunction or fail during the warranty period stated above, contact the original place of purchase for return options. If purchased directly from Man & Machine, Inc., please submit a Return Material Authorization (RMA). This form can be located on our website at http://www.man-machine.com/forms/replacement-form.php. Please reference your original order number, original order information and complete description of the problem on the form. Returned Products must include the RMA number clearly marked on outside of the package. Manufacturer will not be responsible for any unnecessary items included with any returned Product.
THIS WARRANTY IS THE EXCLUSIVE WARRANTY FOR ANY PRODUCT. MANUFACTURER SPECIFICALLY DISCLAIMS ANY AND ALL OTHER WARRANTIES OF ANY KIND, EXPRESS OR IMPLIED, INCLUDING ANY WARRANTIES OF FITNESS FOR A PARTICULAR PURPOSE OR OF MERCHANTABILITY. MANUFACTURER SHALL NOT BE LIABLE IN TORT, INCLUDING NEGLIGENCE OR STRICT LIABILITY, AND SHALL HAVE NO LIABILITY AT ALL FOR INJURY TO PERSONS OR PROPERTY. MANUFACTURER'S LIABILITY FOR FAILURE TO FULFILL ITS OBLIGATION UNDER THIS LIMITED WARRANTY OR ANY OTHER LIABILITY IN CONNECTION WITH A PRODUCT SHALL BE LIMITED TO THE AMOUNT OF THE PURCHASE PRICE RECEIVED BY MANUFACTURER FOR THE PRODUCT. THE REMEDIES STATED IN THIS LIMITED WARRANTY ARE THE CUSTOMER'S EXCLUSIVE REMEDIES AGAINST MANUFACTURER REGARDING ANY PRODUCT. UNDER NO CIRCUMSTANCES SHALL MANUFACTURER BE LIABLE FOR ANY INDIRECT, INCIDENTAL, SPECIAL OR CONSEQUENTIAL DAMAGES, INCLUDING LOST PROFITS AND REVENUES, INCONVENIENCE OR INTERRUPTIONS IN OPERATIONS, OR ANY OTHER COMMERCIAL OR ECONOMIC LOSSES OF ANY KIND. THESE LIMITATIONS AND DISCLAIMERS ARE NOT MADE BY MANUFACTURER WHERE PROHIBITED BY LAW. SOME STATES PROHIBIT LIMITATIONS OF WARRANTIES AND THE CUSTOMER MAY HAVE ADDITIONAL RIGHTS IN THOSE STATES.
All items returned for warranty repair/replacement must be sent freight prepaid and insured to either the original place of purchase or to the Manufacturer:
Man & Machine, Inc.
3706 West Street
Landover, MD 20785
All warranty repairs or replacements will be returned freight prepaid by ground service to any destination within the Continental United States of America. Charges for repairs/replacements shipped back outside this region are the responsibility of the end user.