Innovative Keyboards for 21st Century Public Safety
USA engineered, built & supported keyboards for the challenging environment of emergency vehicles and PSAPs (Public Safety Access Points). Each is "coffee & bagel proof", silent and helps prevent the spread of illness between users. When looking for public safety keyboards, think Man & Machine…
we've got your 6.
Police Keyboard Solutions That Are:
Coffee & Bagel Proof
Completely sealed. Nothing will get inside to damage the keyboard. Wipes down in a breeze. Clean & disinfect them regularly to reduce risk of illness.
Silent & Quiet
Our silicone keyboards are precise to the touch, and great for PSAPs. No annoying rattles to distract the driver or the 911 data center operators.
Work in More Comfort
Nothing drives an officer crazy like twisting his body at a 45° angle when typing on a typical in-vehicle keyboard, especially when writing detailed reports while parked. It's enough to require a trip to the chiropractor. The So Cool is specially designed to be removed from standard bracket clips and used on the driver's lap. The backlight can be perfectly adjusted for comfort, and typing is a breeze, even when wearing gloves. Snacking in the car is no worry because spills & crumbs won't hurt this waterproof peripheral.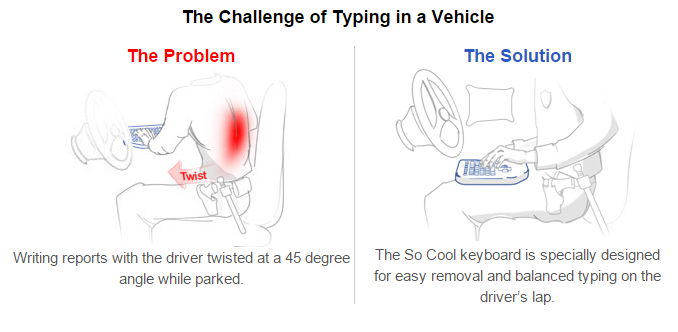 At The PSAP
Work Healthier
When the job is saving lives by quickly and accurately dispatching emergency services, you need more than an off-the-shelf keyboard. You need a silent, dependable keyboard that won't cause distractions. And if one of your operation's staff has to stay home due to a cold or flu bug picked up from a common shared keyboard, then you need a Man & Machine PSAP keyboard which can repeatedly be washed and cleaned with soap & water or standard janitorial disinfectants. All of Man & Machine's PSAP keyboards are quiet and cleanable, allowing your people to show up and get the job done.
At The Desk
A Step Above The Ordinary
Want something stylish and practical to type on in your office? Meet the Its Cool. Modern looks with one key difference, this peripheral can be cleaned when you get it wet or load it up with food crumbs. Just unplug, go to the sink and wash it down. Try that with an ordinary keyboard and you won't get much work done that day.
A Solution For Any Situation:
Browse our selection of public safety keyboards, if you can't find the solution you are looking for, we can build a custom keyboard for you.
At A Glance
In Vehicle Police Keyboard
Who Should Use This Product
Police Officers with Tablets, Police Officers with In Vehicle Computers , EMS Staff
What Is The Benefit
Coffee & Bagel Proof
Droppable
Touch Pad
Wired or Wireless
Backlight
Keyboard
So Cool
PSAP Keyboard
Who Should Use These
Public-Safety Answering Point Operators, 911 Call Center Staff
Keyboards
Simply Cool 24
Washable Keyboards For Police Stations
Who Should Use These Products
Reception Staff, Office Workers, Police Officers at Desks,
What Is The Benefit
Help Prevent Spread Of Illness
Reduce Employee Sick time
Washable at Workstation
Keyboards & Mice
Its Cool Keyboard, D Cool Keyboard, L Cool Keyboard, C Mouse
In-Vehicle Keyboard
Cruise your beat in style.
For PSAPs & 911 Call Centers